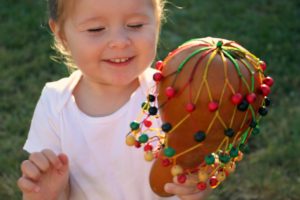 Move With Meg is an educational program for young children, age 2+. I teach capoeira, music/rhythm, and dance, visiting local schools and daycare centers.
What is capoeira?
Capoeira is a Brazilian martial art form that playfully incorporates music, dance, and acrobatics. It is a multi-modal physical activity which promotes the development of strength, aerobic fitness, musical skills, and flexibility. It is also a wonderful outlet for creativity, as students use improvised movements during play.
Capoeira is a fun and healthy activity that teaches leadership, social cooperation, team-building, self discipline, and cultural sensitivity. Students are also exposed to the Portuguese language through traditional songs, enhancing their ability to learn additional languages in the future. In the long term, students of capoeira show improvements in physical fitness, physical coordination, self-confidence, and positive self-esteem, all leading to well-balanced and healthy individuals with increased focus and performance in school. Read about the benefits of martial arts classes for special needs children here: article.
What happens during a capoeira class?
Classes are typically 30-45 minutes in length, depending on the age group. We begin with fun warm-ups, simple stretching exercises, and guided instruction on the movements of capoeira. Special songs used in capoeira will also be taught, in English and Portuguese. On special days, students will also have a chance to learn rhythms on percussion instruments.
I currently offer classes for children age 2+ at daycare centers and preschools around Palo Alto, CA.
What next?
Please get in touch if you are interested to find out more or schedule a demo class – we can come to your school so you and your students can experience what a typical class would be like.
You can also bring Move With Meg to your child's next birthday party or community event. In a workshop format, children will learn capoeira and dance movements, songs, simple percussion, and active games.
Check our current schedule for available classes for your kids: